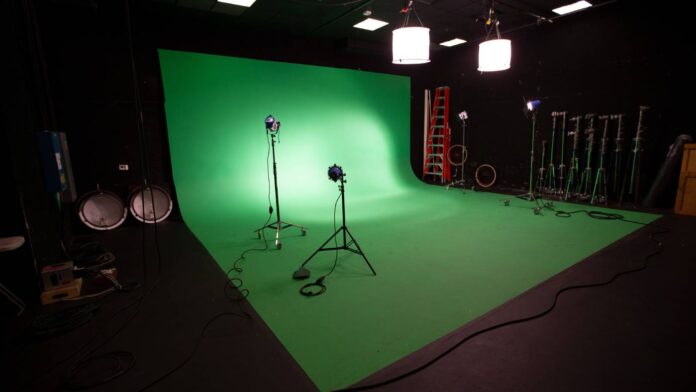 Whether you want to add a cosmic backdrop to your sci-fi epic or just up the production value on your next Discord call, a portable green screen is a handy tool to have in your video production kit. In this guide, we'll make some recommendations for the best portable green screen for different shooting situations. Then we'll look at the most important factors to consider when shopping for a portable green screen.
---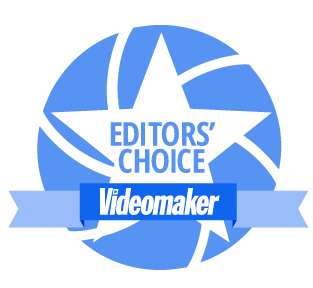 The Editors' Choice award recognizes exceptional video production equipment, software and services. These products must help videographers be more effective storytellers while being affordable, easy to use and dependable. The products must also deliver a superior user experience.
---
Best portable green screen
Westcott X-Drop Kit
If you're searching for the ultimate green screen, the Westcott X-Drop Background System is the best all-around package. This kit includes a 100% polyester fabric screen and a support stand with telescoping arms and legs. The whole setup is lightweight, making it easy to adjust and transport.
The screen is 5 x 7 feet, making it great for headshots or commercial videography in or outside the studio. Also, the screen is machine washable in cold water. So, if the screen gets dirty, you can clean it.
The Westcott X-Drop Kit checks all the boxes. It works great as a green screen, and it's lightweight and affordable.
---
Best budget portable green screen
FotodioX Collapsible Portable Background with Stand
The 40 x 60-inch FotodioX Collapsible Portable Background package offers the best bang for your buck. For less than $100, you get a portable, double-sided screen for chroma-keying. The screen has two sides: chroma green and chroma blue. So, if your subject's wearing green, you can flip to the blue side. Also, you get the flexibility of shooting two different backgrounds, giving you more options to choose from in post-production.
The package includes a tripod system. It's quite small; it takes up very little room. Additionally, the tripod is collapsable, so it's easy to pack up. The FotodioX Collapsible Portable Background is a great package for a great price.
---
Best portable green screen for video interviews
ikan Portable Panoramic Chroma-Key Backdrop Screen
When you need more than one person in the frame, you need a big green screen. The ikan Portable Panoramic Chroma-Key Backdrop Screen measures 13.1 x 7.8 feet; it offers a wide area that fits multiple people in front of the backdrop. It's also tall enough to shoot full-body shots of your subjects.
The setup features a fold-out design. Not only does this make it easy to pack up the screen, but you can also fold the screen around subjects. If you need a green screen that accommodates multiple people, you can't go wrong with the Ikan Portable Panoramic Backdrop Screen.
---
Best portable green screen for special effects
Digital Juice ChromaPop Studio
The Digital Juice ChromaPop Studio features a highly-flexible screen that can be hung or folded around practically any structure. It's also lightweight and easy to set up and break down. This makes it perfect for taking it to any location — inside the studio or out on location. It measures 12 x 18 feet. It's large enough to handle various large production shots and special effects.
Note that the package doesn't include a Digital Juice ChromaPop Stand Kit. If you opt for the Stand Kit, it's simple to set up. One person can do it. The Digital Juice ChromaPop Studio is a flexible green screen package that is perfect for any large-scale chroma-keying.
---
Choosing the right size portable green screen
The number one thing you'll want to consider when purchasing a portable green screen is the size. You'll need to choose a size that both fits in your space and covers the entire area where the action will take place.
Remember that the green screen doesn't need to cover the entire area framed by the camera. As long as the action stays within the boundaries of the green screen, you will still be able to pull off the effect. If there is anything visible around the green screen, you will be able to crop that area out in post-production using what's called a garbage matte. This hides the area not covered by the green screen so that the desired background effect looks convincing.
The problem comes when actors' limbs stretch beyond the area covered by the green screen. This can result in actors losing arms, legs and even heads during the compositing process. That's why it's important to choose the right size portable green screen for your needs.
Let's look at an example. Say you are filming while seated at a desk in a small studio or office. As long as you won't be moving around much, you'll only need your green screen to cover the area directly behind your head and shoulders. A smaller 3-ft x 5-ft green screen would be ideal for this situation. However, we wouldn't recommend sizes smaller than that.
A slightly larger 5-ft x 6-ft or 5-ft x 7-ft screen makes sense for seated presenters, but if the person in front of the green screen needs to stand with a full range of motion, you'll need a larger option. Look for a 10-ft x 12-ft portable green screen or larger.
What's a good green screen made of?
A green screen needs to provide a smooth surface so that the light reflects back evenly. Any wrinkles in your green screen will create subtle variations in color that will make keying more difficult in post-production. That's why it's important to consider the material used before buying a new portable green screen for your kit.
Some of the more common materials used include cotton, muslin, paper, polyester, vinyl and fleece. Some of these will resist wrinkles better than others, and some will be more or less manageable under certain conditions. Fabric options are usually a good choice since many of the fabrics used are wrinkle-resistant and can be washed. Many portable green screens employ a frame system that keeps fabric taut and wrinkle-free. Paper, on the other hand, is an affordable and effective solution for temporary setups, but you'll likely need to roll out new paper every time you shoot.
Whatever you choose, opt for a matte finish that prevents unwanted hot spots. Remember, any variation in lighting on the screen can make it much more difficult to get clean results when compositing the image in post-production.
Lastly, you'll want the material to be durable, especially if you plan to frequently set up and tear down your filming setup. Make sure your portable green screen won't be easily damaged on a typical shoot.
The stand
Once you have screen material picked out, you'll need a way to hold it up while you shoot. You can always opt to tack the green screen to the wall, but for a truly portable solution, you'll want a good green screen stand. Choose something that won't tip over on you while you are filming yet is easy to move around when needed. The larger your screen, the sturdier the stand will need to be.
Adjustable C-stands are a common option used to hold up fabric green screens, but some pop-up style green screens come with custom-designed stands that hold the material tight and in position. There are also self-contained collapsible screens available. These banner-style green screens simply roll up into a protective case when not in use.
It's easy to overlook the need for a quality stand, but investing in something sturdy and reliable will save you a lot of frustration on set, and it may even prevent an injury. Plus, just think of the damage a flimsy stand could do if toppled into an unlucky camera.
How portable is portable?
Whatever option you go with, make sure it suits your production style. The overall weight of your green screen will impact how you use it. It may be worth it to trade in screen size for a setup that's easier to carry and move around.
For example, if you travel all the time and frequently film in hotel rooms, a super small green screen with a lightweight support system is going to be your best bet. On the other hand, if you want something that you can easily set up in your dining room but doesn't need to leave the house, you can opt for weightier stand options and a larger green screen overall.
Along with this, also consider any design features or accessories that might make travelling with your portable green screen easier. If you know you want to travel with your setup, look for a case with padded straps, for instance, or a collapsible screen with wheels.
Set up and break-down
While weight is one factor in the portability of a green screen setup, another factor is ease of use. That is, how easy is it to set up and how easy is it to break down? This is especially important to consider if you need to move or tear down your setup frequently, either for travel or to make room for life outside of video production.
Going back to our dining room example, you might be able to store your production kit in a nearby closet, meaning weight is not an issue. However, if your shooting deadline coincides with the ringing of the dinner bell, it's nice to be able to quickly stash the green screen. In that case, you would prioritize easy set up and break down over lower weight.
In any case, an efficient set-up process is always a plus. If you see an opportunity to reduce stress during production, take it. And fumbling around with a stubborn piece of gear is definitely stressful.
How much does a good portable green screen cost?
Finally, let's talk about cost. Depending on the size and the components included investing in a quality portable green screen can cost anywhere from $30 to $300 or more. Most of the time, the difference will show in the quality of the materials, the durability and the system's ease of use. You can buy a 9-ft x 36-ft roll of green background paper for around $70, but the paper will be finicky to work with and always at risk of acquiring permanent creases. A more expensive option with exceptional ease of use may move to the top of your wish list if speedy set-up is a priority. You will also likely pay more for screens that cover larger areas.
In other words, you get what you pay for.