Get ready to be blown away by the latest and greatest technology in the industry. We've got everything you need to know about the best products at NAB 2023. Whether you're a filmmaker, videographer or content creator, we've got you covered. Join us as we show you the future, exploring amazing products.
The Best Mic of NAB 2023 – Saramonic – Blink 500 ProX B2
If you're looking for the best mic of NAB 2023, check out the Saramonic Blink 500 ProX B2. For $250, this wireless microphone system allows you to record two subjects simultaneously. It operates on the 2.4 GHz frequency band and can be used by themselves with built-in mics or with the included lavalier microphones. Connect to a camera or smartphone using a 3.5 mm jack or a USB-C port. Monitor battery life, audio level, and mute status on the OLED displays on both the transmitter and receiver. The best part is that the system includes a charging case that recharges up to three times, extending its battery life to up to 10 hours.
The Best Computer of NAB 2023 – Dell Precision 3260 Compact
Do you want to know the best computer of NAB 2023? It's the Dell Precision 3260 Compact workstation, which can be configured from one thousand to five thousand dollars. This powerful workstation delivers incredible performance in a small package. It can be customized with up to a 13th Gen Intel Core i9, 64GB of Error-correcting DDR5 RAM, and an NVIDIA RTX A2000 with 12 GB of memory. You can build it with 9TB of internal storage, RAID support, and PCIe Gen 4 for fast data transfers. It also comes with Dell Optimizer for Precision, a built-in AI platform that learns and adapts to your behavior, optimizing your system's performance.
The Best Gimbal of NAB 2023 – ZHIYUN-TECH – WEEBILL 3
The winner of the Best Gimbal of NAB 2023 is the ZHIYUN-TECH WEEBILL 3, priced at $450. This compact and lightweight gimbal stabilizer supports camera setups weighing up to 7.3 lb. The WEEBILL 3 has a built-in fill light and a built-in microphone, with the goal of eliminating the need for extra accessories.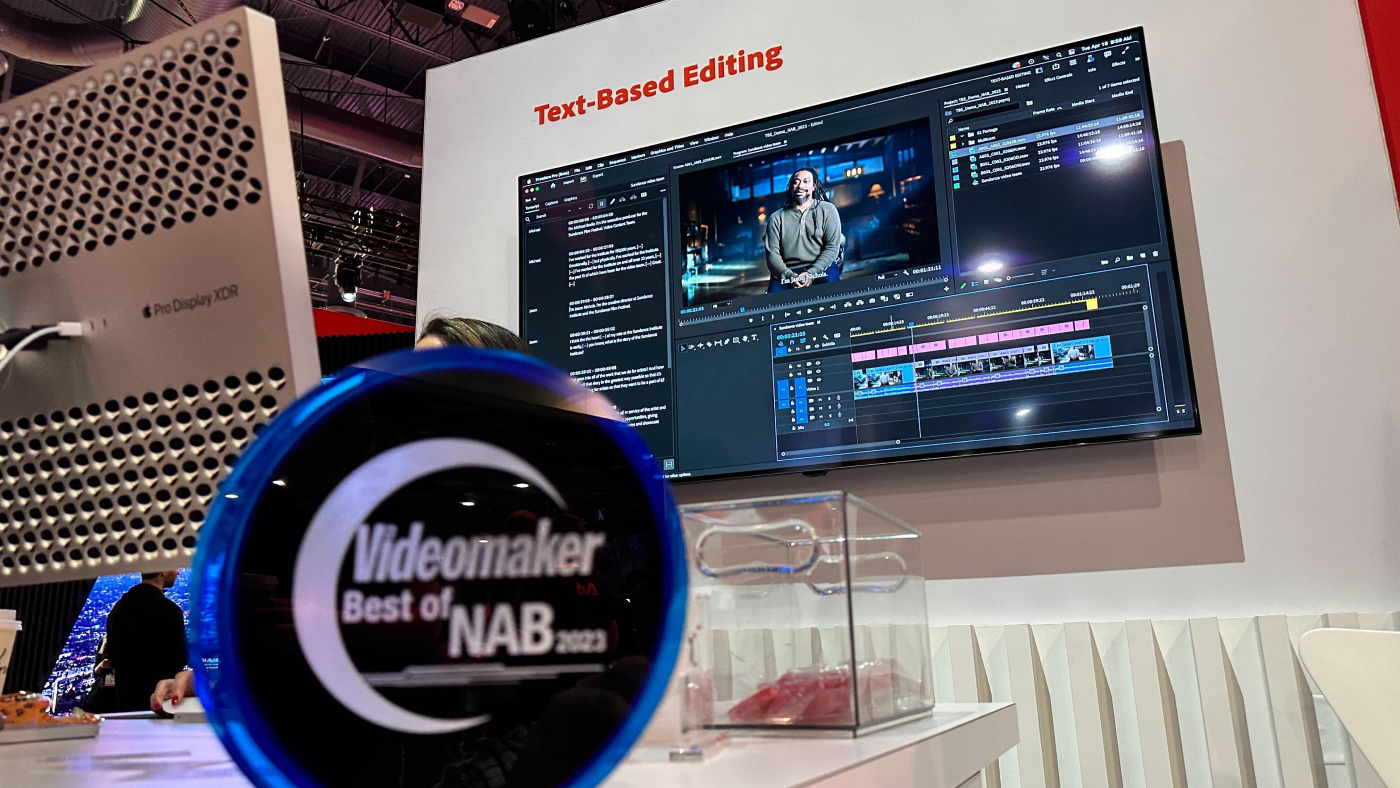 The Best Editing Software of NAB 2023 – Adobe Premiere Pro CC – Text-Based Editing
Premiere Pro CC's Text-Based Editing is our Best Editing Software of NAB 2023. Included in the $21-a-month subscription, this exciting new feature makes it easy to edit your video's spoken words in a text format, similar to editing a screenplay or script. It uses automatic transcription to generate transcripts for your source media and sequences, which you can edit, search and export as captions. This innovative tool allows you to create a rough cut faster, and it is compatible with various live-streaming systems and platforms.
The Best Plug-in of NAB 2023 – Digital Anarchy – Data Storyteller
Digital Anarchy's Data Storyteller is a game-changer for video editors who want to create visually stunning animated charts and maps in their videos. This set of two new plugins is compatible with popular video editing software such as Final Cut Pro, Premiere Pro and After Effects. With Data Storyteller, you can upload Excel or CSV files, choose from various chart types and built-in templates, and customize your animations with ease. You can also visualize data on world and US maps by countries, states, or counties. With integration within your video editing software, it can easily apply changes and show the animations without the need for exporting or importing files. The price of Data Storyteller will be revealed in the near future.
The Best Accessory of NAB 2023 – Kondor Blue Pro-Blad SSD Handle
NAB 2023 best accessory is the Kondor Blue PRO-BLADE SSD HANDLE. This genius accessory lets record from your camera's USB-C output to a SanDisk Pro-blade SSD. It's built for efficiency and ease of use for just $200. The handle supports PRO-BLADE NVMe drives, offering read and write speeds up to 1,000 megabytes per second. Its USB-C connection features built-in protection to keep your data secure, and the NATO rail on the front and bottom provides plenty of adjustability for easy mounting. Plus, it can also be used as a side handle, adding versatility to your equipment.
The Best Light of NAB 2023 – ZHIYUN-TECH MOLUS G60
Upgrade your lighting with the ZHIYUN-TECH MOLUS G60, our best light of NAB 2023, and it won't break the bank at only $200. The Molus G60 is a 60W COB light that charges quickly and easily with a DC adapter or a PD fast charge via a USB-C cable. Boasting a high CRI of ≥96 and TLCI of ≥97, it offers excellent color rendition. Plus, it's bi-color from 2,700 K to 6,200 K and is fully dimmable.
The Best Storage of NAB 2023 – Synology – DS1823xs+
Looking for a reliable, powerful, and versatile data storage solution? Look no further than the Synology DS1823xs+. Named Our Best Storage of NAB 2023, this desktop form factor storage system can provide up to 144 TB of storage capacity before expansion, and up to 324 TB with two Synology DX517 expansion units. With over 3,100/2,600 MB/s sequential read/write speeds and support for various video outputs, this storage system can integrate with various livestreaming systems and platforms. Plus, with versatile applications for file management, data backup, cloud sync and surveillance management, it's set up to give you everything you need to keep your data safe and accessible. The diskless version is available for $1,800, or $3,300 with compatible 4 TB drives.
The Best Support of NAB 2023 – Easyrig – STABIL G3
Tired of shaky hands ruining your shots? Look no further than the Easyrig STABIL G3, winner of our Best Support award at NAB 2023. With its foldable design and hanger, it's easy to take with you wherever you go. Plus, the locking mechanism allows you to secure the arm without a pin, while adjustable angles make it suitable for different shooting scenarios.
Best Streaming Solution of NAB 2023 – Roland VR-6HD
And finally, the Best Streaming Solution of NAB 2023 goes to the Roland VR-6HD. This is a direct streaming AV mixer that offers video switching, audio mixing and LAN/USB streaming encoders in a single unit for just $3,000. It supports six 1080p HDMI inputs with frame rate converters and real-time scalers. It has a five-layer video effects engine that allows you to add lower thirds, picture-in-picture and downstream keys. With 28 simultaneous audio channels, all with Roland's sound mixing and effects, six balanced XLR/TRS combination jacks, stereo RCA inputs and Bluetooth audio support. It even has live production automation with sequencing, macros and scene memories.
The Best PTZ Camera of NAB 2023 – PTZOptics Move SE
The best PTZ camera of NAB 2023 is the PTZOptics Move SE! At just $1,000, it offers software-enabled auto tracking that uses advanced AI to lock onto the chosen subject. With versatile video outputs, including SDI, HDMI, USB-C and IP, it can be integrated with many livestreaming systems and platforms. The PTZOptics Move SE has a maximum resolution output of 1080p at 60 fps. PTZOptics also offers an optional NDI|HX upgrade for low-latency and high-quality network video. Available in 12x, 20x or 30x optical zoom, it also has focal range focus lock, motion sync, precision speed control and color matching.